It is a learning experience to develop and recognize the innovative talent of university students.It is an initiative where young people from different disciplines work as a team to create solutions to innovation challenges.
In the first edition, 160 students from 18 universities from all over Spain participated and formed 23 multidisciplinary teams dedicated to finding innovative solutions. A team of five students from the School participated for the University of Vigo and presented a proposal based on the use of virtual reality as an educational tool, being one of the 3 finalists who could make the explanation of their project at the headquarters of Vodafone in Madrid.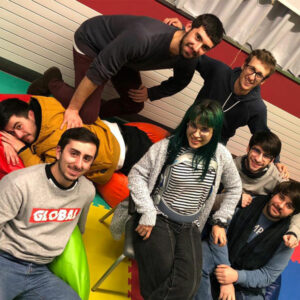 In the 2020 edition, a new team from the University of Vigo formed mainly by students from the school also made it to the final, being among the 3 best 26 teams from Spanish universities. Their proposal Optemis consisted of a mobile application aimed at helping visually impaired people at airports. It was based on the use of indoor geolocation technologies and image processing. On this occasion, due to COVID19, the final had to be held by videoconference.