Are you a technology teacher and want to take part in this initiative with your highschool or vocational training students? Are you a highschool or vocational training student and want to experience the potential of telecommunications? If that is so, this olympiad is for you.
¿What is it?
It is a initiative stemming from 20 telecommunication engineering schools from all Spain and the COITT, the Spanish official telecommunication engineer association.
Its general purpose is the promotion of the telecommunication engineering by showing how it affects many fields in our daily life and improves its quality. It focuses on the Sustainable Development Goals or SDG. This year the Goal 11: Make cities inclusive, safe, resilient and sustainable has been selected.
¿Who can participate and how?
You can participate in teams (no bigger than five students) in two categories:
(i) 2nd, 3rd y 4th year of secondary school
(ii) Medium or higer level of vocational training
Each team will design and develop a project related to telecommunication engineering and the Goal 11. The material provided by the EET (kits with programmable plates compatible with Arduino IDE) shall be used for this purpose. The communications (5G, LoRaWAN, WiFi, Bluetooth, etc.) must be used in the project.
Baccalaureate students can participate on their own.
In this case, a set of problems related to telecommunication engineering must be solved. The main focus falls upon the smart use of physico-mathematical tools adequate to the expected level of the students.
You can find more detailed information here.
¿How and when should I register?
Any high school or vocational training teacher can register his team(s) in this form.
Registration period: from 16th January to 28th February 2023.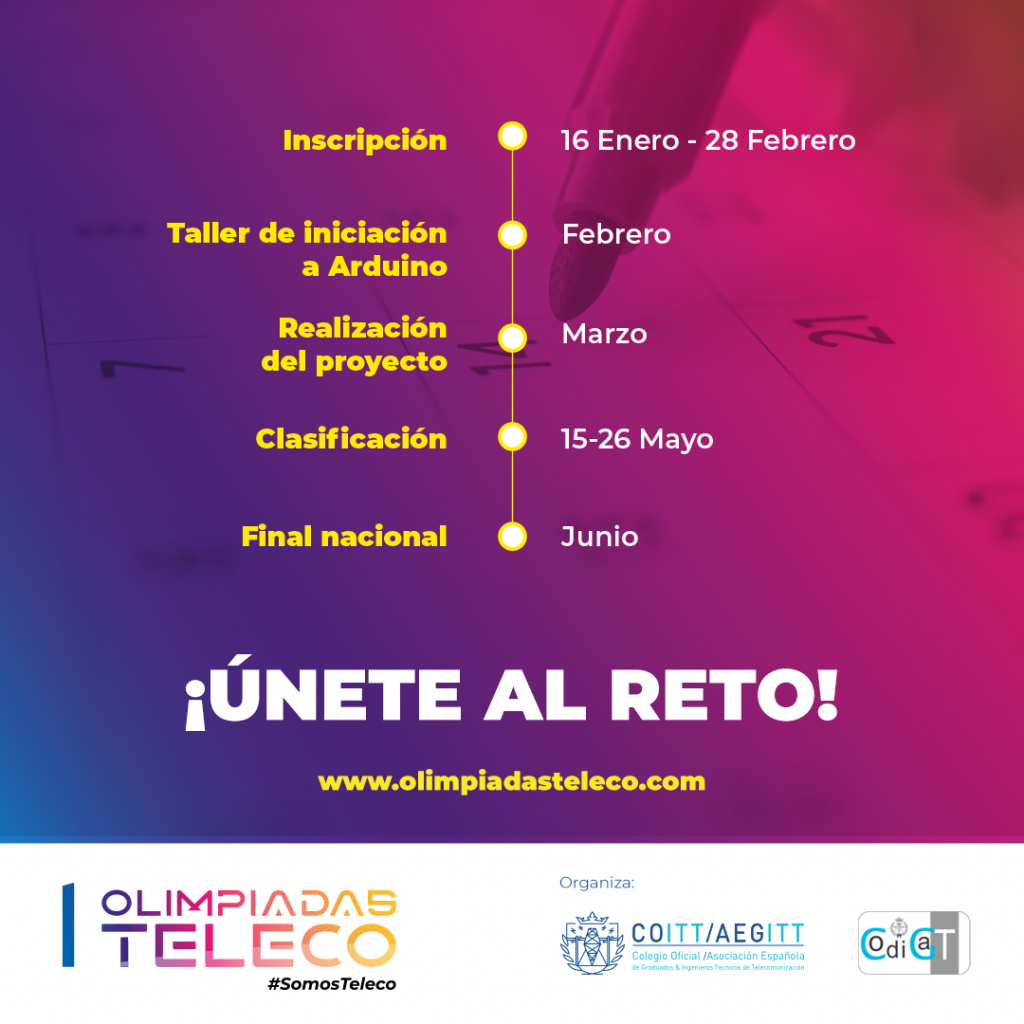 Choose our school as your home office during the classification phase: School of Telecommunication Engineering, University of Vigo, Vigo!
¿What will be the reward?
Apart from experience and prizes, only for participating, you get:
A kit with programmable plates compatible with Arduino IDE for your centre.
Training on Arduino programmation for you in February.
Competition phases and prizes
The competition will have two phases:
1st Classification phase
A competition between the teams registered in the EET UVIGO from 15th to 26th May 2023.
Three prizes awarded:
First prize (Best technical proposal):
400 € for the team and 400 € for its centre.
Second prize (Most original proposal):
300 € for the team.
Third prize (Closest approach to the Goal 11):
200 € for the team.
2nd National phase
The best projects pass directly to the national competition, which will take place in June 2023.
Four prizes awarded:
Best technical proposal.
Most original proposal.
Closest approach to the Goal 11.
Best communication and presentation of the project.
¿Any doubts?
You can get them solved:
Sponsors of the local competition